Welcome to the Sparta High School Alpine Racing Ski Team
NEXT RACE:

Wed. Feb. 8th at Mountain Creek
SKI TEAM STANDINGS 2023 :
Varsity Boys:
16 Win - 1 Loss
94% Win Percentage | Ranked 2
Varsity Girls:
8 Win - 7 Loss
53% Win Percentage | Ranked 9
Top 8 teams by win percentage qualify to compete at State Championships; plus top 3 from Petro Qualifier.
THE COACH'S CORNER
Posted 2/07/23 rev 2/08/23
The Sparta Varsity Boy's Ski Team continues to shred the slalom course with another 1st place win boosting our win percentage to an impressive 94%. The JV Boys ski team took 3rd place and both the Girls' Varsity and JV ski teams placed 2nd! Read the blog article https://spartaski.com/blog/1st-place-win-boys-slalom-3-feb-5-2023
Comprehensive race results are posted after each race on this site under the Race Results tab. To view race results, log in to your account.
Our next race is Wednesday, Feb. 8th at Mountain Creek at 5 pm. Spectators, please view the event details for Spectator Waivers which are required to hike up to view the race. The next 8 days are going to be a thrill with three final conference races! 
Thurs W4K Practice - NO Bus: Everyone will need to make arrangements to be at W4K at 3:30 pm and picked up at 6 pm for tomorrow's GS practice 2/09/23. Parents must complete the SHS Athlete Team Travel Release Form and return it to me via email coach@spartaski.com. All forms must be submitted to me no later than 1 pm tomorrow in order to participate in practice.
BLUE MOUNTAIN RACE WAIVER REQUIRED: Every parent must complete a BLUE MOUNTAIN RESORT COMPETITOR RELEASE FORM in order for your athlete to compete in Saturday's Feb 11th race. Email the completed form to me at Coach@SpartaSki.com
If anyone has photos or videos to share, please email coach@spartaski.com or text me via Remind app. Thank You!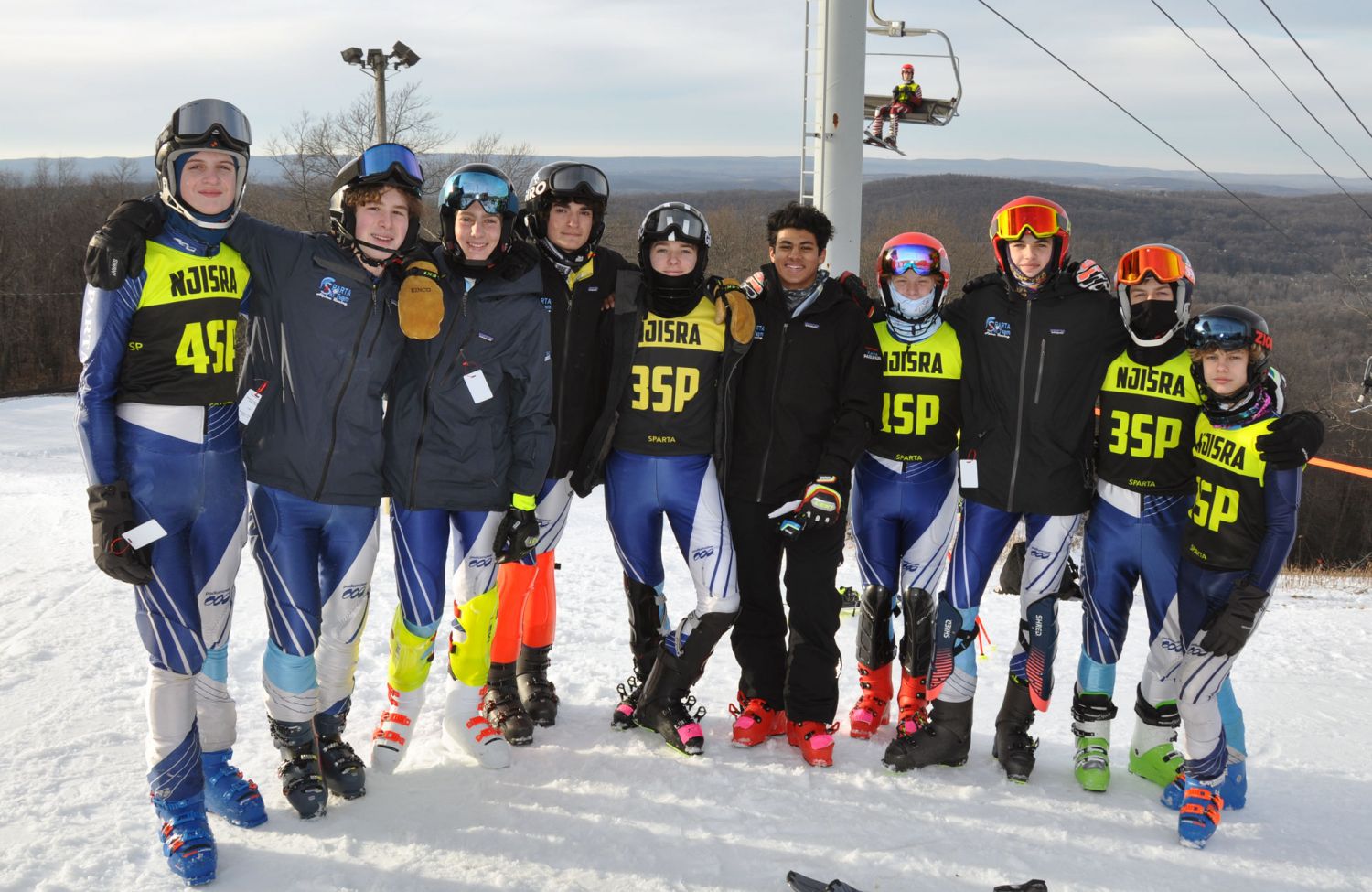 Sparta Varsity Ski Team (from left to right):
Alek Diamond, Ben Dykstra, Ryan Grycuk, George Flint, Asst. Cpt. James Kressman, Captain Kanna Pasunuri, David Baker,
Drew Young, Chase Thonus & Jonathan Petelicki
Coach Calafati
Upcoming Events: