SENT:
Thu. Jan. 13, 2022 7:28 pm
TO:
Racers & Parents 2021/2022 (67 subscribers)
1st Ski Race Of Season - Fri. Jan.14th 3pm
RACER READY ! 
At 3PM Tomorrow
The Sparta Ski Team Is Going To Send It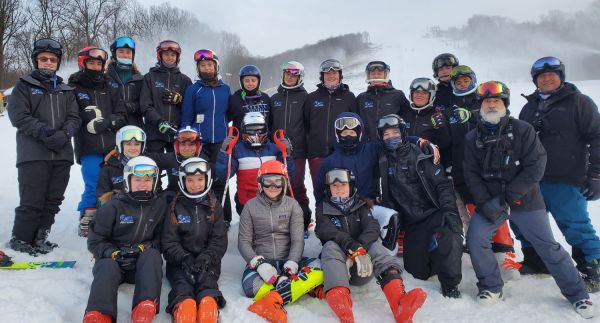 Happy New Year Everyone!
Our 1st race of the season is just one day away. Come cheer on the Sparta Ski Team. 
There is nothing more thrilling than watching our young athletes compete in a Slalom Ski Race. I hope to see all of you on the mountain tomorrow cheering on your children and rooting for the Sparta Ski Team. Over the past few months, your kids have worked super hard, both at dry-land training and mountain training, and they are looking impressive and ready to race.
Slalom Race #1 Details:
Date: Friday, Jan 14th
Race Start: 3 pm
Mountain: National Winter Activity Center, Vernon NJ
Sparta vs Conference B | 8 Teams Competing
For more information about the race visit: https://spartaski.com/event/race-2-slalom-2022
Useful Race Day Information:
Spectators are welcome! Use of lodge is not permitted.
Spectators can hike up to the race finish area to watch the races.
Dress WARM and bring something to keep your feet off the snow like cardboard or a carpet square so you don't freeze.  
Live results can be viewed on https://livetiming.usskiandsnowboard.org/. All race results will eventually be posted on our website at https://www.spartaski.com/race-results.htm,  
Bring those cowbells and make some noise at the finish line! 
RACE SUITS:
Sparta race suits have been issued to all racers. Race suits are only to be worn on race days. When not being worn please take good care of them and hang them up. All race suits will be collected at the end of the season. Do not change race suits with other racers and do not remove pads from the race suits.
TRANSPORTATION NOTE:
Any racers who will NOT be returning to the school on the bus after a practice or after a race must provide a parent signed and dated note requesting so or text from the parent to Coach Calafati. Notification must be provided before we depart the high school for the mountain. If you wish to take your child home on the day of the race, please note your child is required to stay and support their teammates to the end of the event. Once all our racers have finished racing and our post-race team meeting is over, your child may leave the mountain with you. Thank you in advance for your cooperation.